Car Rental & Transportation
Car Rental
Columbus Airport on-site rental car companies offer convenient services at the terminal. Rental car counters are located on the ground level at the end of the West terminal due to construction. Rental car return is located outside of the terminal on the west side.
Alamo, Enterprise and National
Hours:
Monday-Sunday: 9 a.m. – 9:30 p.m
Saturday-Sunday: 9 a.m. – 9:30 p.m
Contact Information
Avis & Budget
Hours:
Monday-Friday: 9 a.m. – 6 p.m.
Weekends: 9 a.m. – 3 p.m.
Contact Information
Hertz
Hours:
Monday-Friday: 7:30 a.m. – 6 p.m.
Saturday: 9 a.m. – 12 p.m.
Sunday: Closed
Contact Information
Uber & Lyft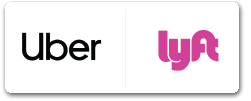 Uber and Lyft ride share available through the app. Pick up location is located at the East entrance of the main terminal.
Taxi/Limousine Services
Taxi services are always available at the east end of the terminal past baggage claim. Below is an approved list of taxi cab companies for your convenience.
Yellow Cab Company: (706)-322-1616
Approximate fares for Columbus area and Fort Benning are listed below.
Meter Wait Fee
$2.00 first mile / $0.60 per additional 1/3 mile
Buses
The Metra city bus route is across from the Northwest corner of the Airport on Airport Thruway with the pickup at Wal-Mart.