Phone: 706-324-2453
Hours of Operation (EST):                                  
Customer Service:  7 am to 8 pm
Line Service: 5 am to 9 pm        On Call: 24 Hours a Day
Flightways Columbus is the fixed base operator (FBO) at the Columbus Airport (CSG) providing general aviation Avgas, Jet A fuel, services, &  facilities for based and transient aircraft and their associated crews and passengers. These aircraft range from vintage biplanes to sleek corporate jets.
We provide quick, convenient and  valuable information on a wide variety of ground services that aviation travelers need to know:
Where to stay, eat, get transportation or what local attractions to see? Your front door to business is Flightways Columbus designed to deliver a truly unforgettable & unique level of service for private & corporate aviation customers.
NON- Precision Approach Update:
Click here for status of non-approach to runways 13 and 24.
Airport Rules and Regulations
The Commission is granted the authority to adopt rules and regulations in accordance with the amendment to the State of Georgia Constitution creating the Commission. These Airport Rules and Regulations (ARR) have been adopted by the Commission to establish and promulgate the standards deemed necessary to the maintenance and promotion of the peace, health, good government and welfare of the Columbus Airport. Please click on each link below to review each section of the ARR.
Amenities
Flightways Columbus offers the finest in passenger and crew amenities paired with simply the best customer service in the  industry. You'll notice the difference from the moment you arrive. This is no run-of-the-mill FBO.  Everything perfectly planned and executed to make your trip more   convenient and hassle free.
Come experience Flightways Columbus and see how we are setting the new standard for quality and service. We provide: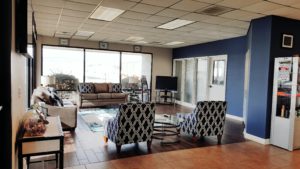 Spacious stylish customer lobby

WSI,  Clearance Delivery, ATIS

Pilot Business Center (Wi-Fi)

Pilots' lounge with over-stuffed reclining chairs

Snooze Room

Satellite Entertainment

Private Conference Facility

Courtesy Car

Columbus Airport Concierge Services
Primary Support Services
Upon arrival to Flightways Columbus (CSG), our professional staff will provide unparalleled customer service to visiting passengers and crew members, so you can effortlessly continue on to your destination.
Our services include:
Ground Power
Potable Water Services
6,200 Sq ft. of Office Space
Enterprise Rental Cars Onsite
Catering
Limousine service
Internet-accessed remote security surveillance
Aircraft Fueling Featuring World Fuel Services Products
Aircraft Maintenance Services (Through Columbus Aero Service)
Full Service Aircraft Maintenance & Repair
Flightways Columbus offers Aircraft Maintenance Services through Columbus Aero Service, LLC which is privately owned and operated as a convenience to our travelers.    For more information please visit their website by clicking the link below.

Address:  5290 Armour Rd. Hangar 19; Columbus, GA 31909
Phone:     706.573.5699
Email:      info@columbusaeroservice.com
Hours:      Monday – Friday 8 AM – 8 PM
Web Address: http://www.columbusaeroservice.com
Features:
Our runway provides spacious  aviation parking that can accommodate a Gulfstream 550 or a Global Express. Passengers have full access to our  walkway canopy  allowing them to enter the FBO free from inclement weather.
Featuring:
Elegant private meeting facilities
Teleconferencing capabilities
Wireless broadband access
Hygienic restrooms
Plasma screen televisions
Satellite weather
Flight planning & tracking
Complimentary Specialties:
Coffee, tea , bottled water
Fresh popcorn
Pretzels
Assorted Chocolates, Mints, & Gum
Additional resources are available at: http://www.AirNav.com and www.FltPlan.com
Private Aviation Travel Exceeding Passenger & Crew Expectations EVERY Time You Visit.
For Direct Questions/inquires contact 706-324-2453.