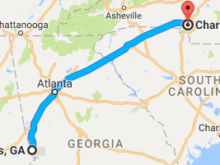 COLUMBUS- CHARLOTTE AIR SERVICE
RECRUITMENT PLAN
The Columbus Airport Commission is developing multiple sources of risk mitigation funding for non-stop service between Columbus and Charlotte, connecting to more than one hundred cities around the world. The new service will help to lower fares and make local air service more accessible.
The key incentive to recruiting new service is a Minimum Revenue Guarantee (MRG), under which Columbus Airport and its community partners share the risk in launching new service with the carrier providing the service. The funding will be a mix of local support, airport incentives, and federal Grant money, totaling more than $1.5 million.
The Airport has already been awarded a federal Department of Transportation Air Service Grant of $750,000 for service to Charlotte. The local funding will join the federal funding to illustrate to potential carriers the demand for service and its potential to be successful. It is important to note Grant funding will be drawn upon first – before any local commitments are drawn upon.
The Airport's goal is to develop sufficient local commitments on a timeline for a service launch by the end of 2017.

CLICK HERE FOR PRESENTATION.

CLICK HERE FOR FREQUENTLY ASKED QUESTIONS.

CLICK HERE FOR PLEDGE FORM.